ccbl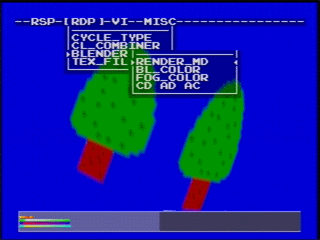 ---
Table of contents
---
Overview
This program was created as a means of easily learning about the Nintendo64 RDP feature block, particularly the ColorCombiner and Blender features.
ccbl is typically started by the Windows application dptest. Work performed in ccbl cannot be saved be saved or loaded. However, ccbl can be run by downloading it to the debugging target as a normal N64 application. It also can be run by writing it to a flash cartridge.
---
Operation
Although two controllers are normally used, the program can be operated with only one controller if necessary.
---
Menu Descriptions
---
Example Settings
Cycle mode is set to 1 cycle unless otherwise indicated.
Default parameter values are used unless otherwise indicated.
The (*) symbol indicates settings that are required to view the effect with ccbl.
---
Miscellaneous Items
---
Menu Rendering Mode
The menu rendering mode used is G_RM_XLU_SURF.
Because this mode uses the CVG_DIST_FULL setting, it may corrupt the cover values for the display model. For a proper display, turn off the menu display.
---
Near/Far-Plane Clipping Values
ccblJ sets the near-plane clipping value to 500 and the far-plane clipping value to 20,000. These are not necessarily recommended values.
Values that are appopriate for the application should be selected.
---
Unsupported Combine Modes
The Combine mode macro settings shown below are not supported. In addition, parameters for these settings have been omitted. The Color Combiner parameters can be set directly.
G_CC_TEMPLERP
G_CC_1CYUV2RGB
G_CC_YUV2RGB
G_CC_CHROMA_KEY2
---
Performance Meter
The nuDebTaskPerfBar1() function of NuSystem is used as the performance meter. For information on the performance meter, see the NuSysytem documentation.
The performance meter includes not only the model display time but also latencies such as the time for frame buffer clearing and menu display.
---
Parameters that ccbl Cannot Set
ccbl cannot be used to set items that are not closely related to Color Combiner and Blender.
In developing an actual application, setting only those parameters that can be set by ccbl will not produce a proper display. Please use the documentation and sample source code available as references.