guAlignF [Function]
Function
guAlignF
Creates a modeling matrix for rotation around an arbitrary axis (aligned, floating-point)
Syntax
#include <ultra64.h>        /* gu.h */
void guAlignF(float mf[4][4], float a, float x, float y, float z);
Arguments
mf

4x4 matrix resulting from calculation

a

Angle of rotation (in degrees) around an arbitrary axis

x

X component of axis of rotation

y

Y component of axis of rotation

z

Z component of axis of rotation
Returned value
None
Description
This macro performs an alignment process (in which the arbitrary axis represented by the line passing through the origin and a point (x, y, z) is rotated so it points in the same direction as the negative Z axis), and then returns a modeling matrix to the structure indicated by mf for use in rotating by an angle of a degrees in the positive direction around this arbitrary axis. The result of calling this macro is the creation of a modeling matrix like the one shown below. Note that a unit matrix is returned when h = 0.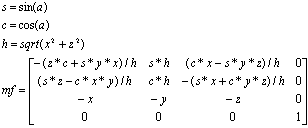 (* Note that the values (x,y,z) here are normalized inside the function)
Fixed-point is handled using guAlign.
Note
The vector

does not have to be normalized ahead of time. This is done inside the function. However, when

= 0, the operation of this macro cannot be guaranteed.
See also
guAlign, guRotate, guRotateF, guScale, guScaleF, guTranslate, and guTranslateF
Revision history
03/01/99 Completely rewritten